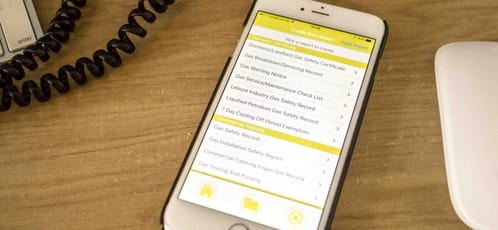 Gas Checker allows you to create customised Gas Reports with your company logo to enhance your business profile and look professional.
You can then instantly email or print certificates for your customers while on the job. You can pick from many different types of files which will be automatically stored on your device in separate folders to keep it all nice and clean and tidy.
PRO and PRO+ users have the enhanced feature of daily rolling backups of all your files and folders meaning no matter what happens you can't lose your files, even if your device is lost stollen or damaged.
Gas Checker provides the following gas reports on its Mobile App:
Domestic/Landlord Gas Safety Report
Gas Warning Notice
Gas Service Checklist
Leisure Industry Gas safety Reports
LPG Gas Safety Reports
Commercial Gas Safety Record
7 day cooling off period form
Commissioning form
CD11 Oil
Commercial Catering Inspection Records
Commercial Plan-Room Service Record
Quotes
Invoices
Commercial testing and purging
Commercial Gas Safety Record
Legionella Risk Assessments
Boiler Commissioning Record
The benefits of creating digital files with Gas Checker:
Engineers and customer signature capture
Company Logo and gas safe Logo
Annual Reminders of all certificates by SMS, Email and Letter
Adds all customers to database automatically
Email or Print PDF on site direct to customer
Can be used independent of any internet connection
Fast and easy to use.
Save all your Gas certificates to your device so you never lose them.
Save the endless writing of paper certificates with repetitive information